Severity
High
Analysis Summary
Donot APT group has been actively dropping malicious samples and targeting Government users to exfiltrate data. The hackers' targets include countries in South Asia, in particular, the state sector of Pakistan. The group has a history of attacking Pakistani government officials and military personnel and has been linked to India.
They previously targeted Pakistani users with android malware named (StealJob) which was used to target Pakistani android mobile users by Phishing on the name of "Kashmiri Voice" The attackers hunt for confidential information and intellectual property. The hackers' targets include countries in South Asia, in particular, the state sector of Pakistan.
Also, in the previous month (July, 2022), the threat actor of this APT group used Comodo's certificate to sign its spyware.
Most recently, this APT gang has incorporated new modules to its Windows spyware framework known as YTY, Jaca. These most recent samples appear to be in use in the wild. The newly added modules include a browser stealer component and a shellcode loader component that examines a fresh reverse shell DLL variation, according to researchers.
The browser stealer component has the ability to steal data from Google Chrome and Mozilla Firefox, including login passwords and browsing history.
In the most recent spear-phishing email attack, the group was discovered employing RTF documents and targeting government departments. When these RTF documents are opened, they send an HTTP GET call to the C2 server, which retrieves a malicious remote template.
The victim is tricked into enabling malicious macros that are then exploited to inject a reverse shell module when a remote template is inserted.
It is recommended to use technologies like network firewalls, EDR, and XDR to detect abnormalities at the entry stage since the group focuses on crucial security gaps that only a few firms may have plugged in.
In the most recent campaign this APT group was observed targeting Bangladesh.
The filenames include বদলি যুগ্ম পরিচালক ও উপ পরিচালক.doc (Substitute Joint Director and Deputy Director.doc) & মিয়ানমারের জেলে বন্দি পাঁচ জন বাংলাদেশী নাগরিকদের ফেরত পাঠানো.DOC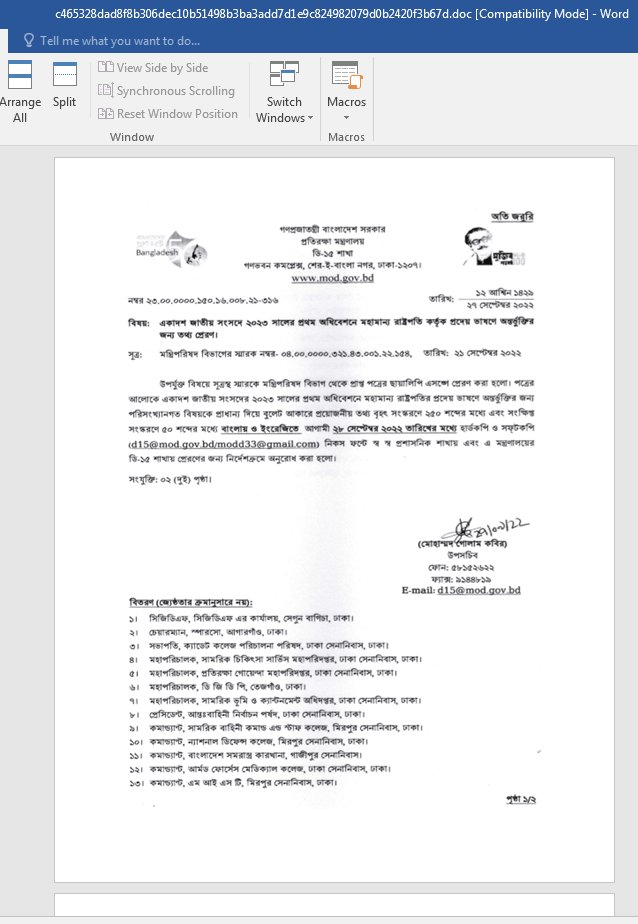 Impact
Information Theft and Espionage
Indicators of Compromise
MD5
795c0ee208d098df11d56d72236175b2
67db1f87f54fd1b6b33b759f83f2e25c
SHA-256
99ce3db108f0b980f34f3ca870261bebd0b5e8c8a7c6c79ee620f3cfb2fc1f93
c465328dad8f8b306dec10b51498b3ba3add7d1e9c824982079d0b2420f3b67d
SHA-1
ba2eb9cf54f4661c94756dd2fa923c5d0a0075d5
0999f11d2c311cece4aea329528de3eb0fc791be
Remediation
Block all threat indicators at your respective controls.
Search for IOCs in your environment.
Enable antivirus and anti-malware software and update signature definitions in a timely manner. Using a multi-layered protection is necessary to secure vulnerable assets
Use technologies like network firewalls, EDR, and XDR to detect abnormalities at the entry stage