Severity
High
Analysis Summary
DeathStalker is a unique threat group that appears to target law firms and companies in the financial sector, as well as others at times. This actor isn't motivated by financial gain. They don't deploy ransomware, steal payment information to resell it, or engage in any type of activity commonly associated with the cybercrime underworld. Their interest in gathering sensitive business information shows that it's a group of mercenaries offering hacking-for-hire services, or acting as some sort of information broker in financial circles. Its intrusion vector is spear-phishing emails with attached archives containing a malicious LNK file that leads to cmd.exe. These shortcut files have the following structure: clicking them initiates a convoluted sequence resulting in the execution of arbitrary code on the victim's machine. A short PowerShell script, passed through cmd.exe's arguments, bootstraps the following chain: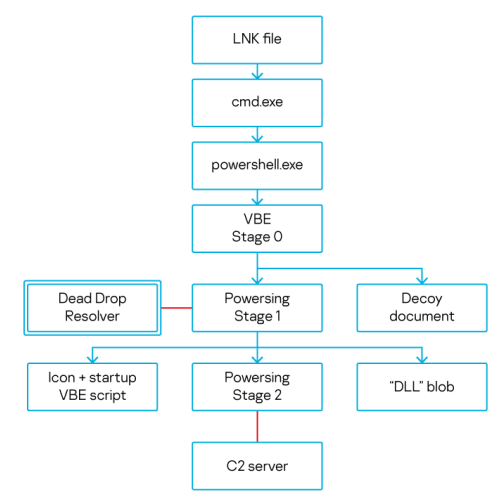 Communications with the C&C server involve the exchange of JSON-encoded objects. Powersing only has two tasks:
Capture periodic screenshots from the victim's machine, which are immediately sent to the C&C server (two built-in commands allow operators to change screenshot quality and periodicity)
Execute arbitrary Powershell scripts provided by the C&C
Impact
Command execution
Data exfiltration
Theft of sensitive business information
Indicators of Compromise
MD5

d83f933b2a6c307e17438749eda29f02
d330f1945a39ceb78b716c21b6be5d82
3b359a0e279c4e8c5b781e0518320b46
e1718289718792651fa401c945c17079
85ed6ab8f60087e80ab3ff87c15b1174
540bc05130424301a8f0543e0240df1d
6f965640bc609f9c5b7fea181a2a83ca
SHA-256

880607cc2da4c3213ea687dabd7707736a879cc5f2f1d4accf79821e4d24d870
5039e8f97dc499fef344b56270ae534a0cea1c93ddacf17ae46c7f922f6139d8
22ede766fba7551ad0b71ef568d0e5022378eadbdff55c4a02b42e63fcb3b17c
4920e6506ca557d486e6785cb5f7e4b0f4505709ffe8c30070909b040d3c3840
7eb4ea6277bd62653cc474cf1125165c9bdc43858811c0d88be25e2ec34bc14d
0c7e8427ee61672568983e51bf03e0bcf6f2e9c01d2524d82677b20264b23a3f
f4610b65eba977b3d13eba5da0e38788a9e796a3e9775dd2b8e37b3085c2e1af
SHA1

321d9fd40650b91451742694eb0354f44b6167d9
1c1475d89505d3f7aa91c584a62d41e9f0111fc0
a885bc145a3d1cd7e1d226a8dcd5de953c0318dc
ab23520a9a627fa9b0fd71cfd4be01b752bb47e1
6907e717352376e84d410a1e7cc265fcd3d33aef
d2dc391a9b79caa1239b93817f74a6ded9c5af59
c5399596240bc764ff7e053fabe14efd08b8d504
Source IP

91[.]229[.]77[.]120
54[.]38[.]192[.]174
91[.]229[.]77[.]240
105[.]104[.]10[.]115
91[.]229[.]76[.]153
91[.]229[.]79[.]120
91[.]229[.]76[.]17
Remediation
Block the threat indicators at their respective controls.
Do not download files attached in untrusted emails.