Severity
High
Analysis Summary
Darkylock is a ransomware that encrypts the files of the infected system and appends ".darky" extension to all the encrypted files leaving a ransom note in a text file named as "Restore my files.txt". The ransomware attacks all commonly used file formats, including media, documents, databases, and archive files. This ransom note consists of information that the only way to decrypt the files is to pay the attackers an amount of 0.005 BTC then they will be provided the decryption tool named as "decrypt_bit.exe". This ransomware family is linked to Babuk Ransomware. It enters to your system through email spam, Trojan injection, and peer to peer networks.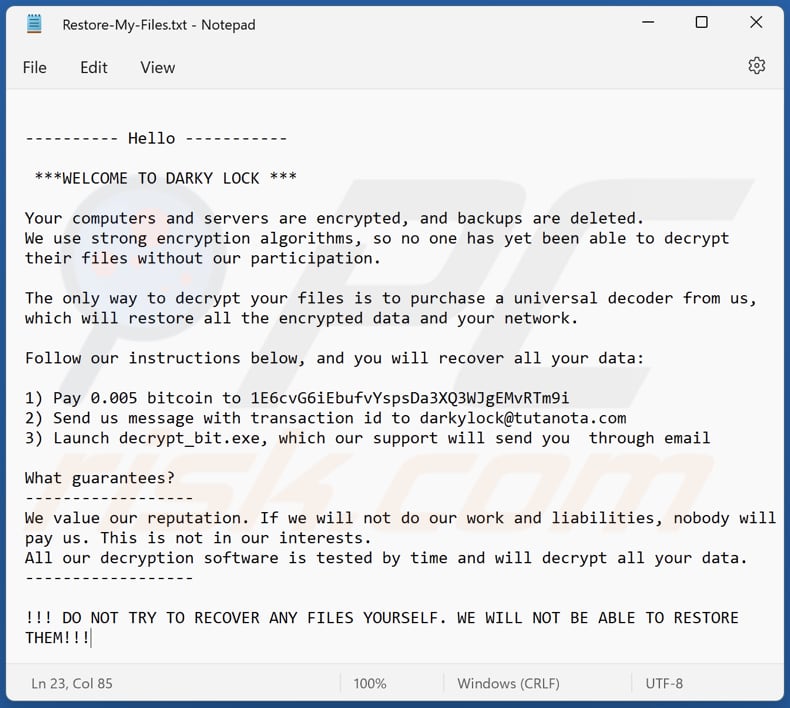 Impact
File encryption
Data theft
Indicators of Compromise
MD5
60ed30bea0f9e2db5cc1f45241c7473c
SHA-256
fc28d2eaee1fd3416fe3e0cd4669df3ac178c577e3a8c386b1c34c3146afb8d6
SHA-1
62b33edc9682bc780bc68d34ae7b19eaf429e42d
Remediation
Block all threat indicators at your respective controls.
Search for Indicators of compromise (IOCs) in your environment utilizing your respective security controls
Emails from unknown senders should always be treated with caution.
Never trust or open " links and attachments received from unknown sources/senders.
Limit access to administrative accounts and portals to only relevant personnel and make sure they are not publicly accessible.
Patch and upgrade any platforms and software timely and make it into a standard security policy. Prioritize patching known exploited vulnerabilities and zero-days.
Along with network and system hardening, code hardening should be implemented within the organization so that their websites and software are secure. Use testing tools to detect any vulnerabilities in the deployed codes.
Enable two-factor authentication.
Enable antivirus and anti-malware software and update signature definitions in a timely manner. Using multi-layered protection is necessary to secure vulnerable assets
Restrict installation of untrusted 3rd Party application
Maintain daily backups of all computer networks and servers.