Severity
High
Analysis Summary
New fourth version of the DanaBot banking trojan has surfaced after months of inactivity. This most recent variant comes packed mostly with the same deadly arsenal of tools that have come before. Main features include a ToR component to anonymize communications between the bad-guys and an infected hardware. As previously reported in DanaBot control panel, DanaBot is set up as a 'malware as a service' in which one threat actor controls a global command and control (C&C) panel and infrastructure then sells access to other threat actors known as affiliates,".
DanaBot's multi-stage infection chain starts with a dropper that triggers a cascading evolution of hacks. These include stealing network requests, siphoning off application and service credentials, data exfiltration of sensitive information, ransomware infection, desktop screenshot spying and the dropping of a cryptominer to turn targeted PCs into cryptocurrency worker bees. At least one of the DanaBot distribution methods is identified as misuse of various software warez and cracks websites that supposedly offer software keys and cracks for a free download, including anti-virus programs, VPNs, graphics editors, document editors, and games. However, the files distributed by these sites are a bundle of several different malware, including DanaBot. Earlier Campaign also distributed Danabot with new features.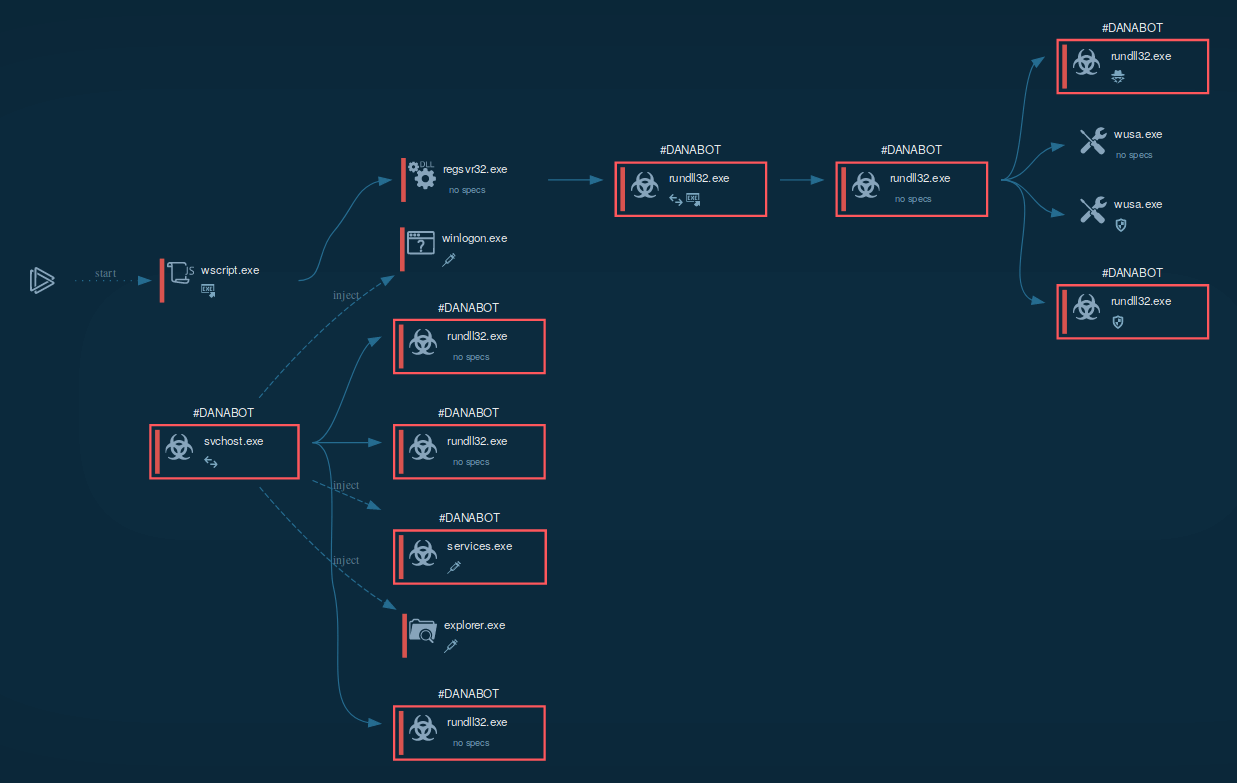 Impact
Data Exfiltration
Information Theft
Credential Theft
Indicators of Compromise
MD5
3d74e02ec873c57ef72db44f32b33b04
5af71e2a08eed74f115e2b5d3ef4e570
6c51b0d4ca71e3f5283968c51562cbbd
38ac065e7720adce43a7d2722f8f3c7c
d93af4a3acb5eb632658a632178db45c
05e6fd44959e6258c1e07bd12a4f284f
dfde72c9dcc318caad3e880ec186f010
SHA-256
e084dd63e194fc150dfa439ab805ed2efc631397a40741cfcc789180c42b0515
71bef343c030a099a182448091052c9788988251e1e9e3236cb27b53a5bd318f
09dc7dc14936ed8794d78cdb6eddc7f3776cba90b3942c2fa1ff7bdf329956cc
d20393005bd47dc79acbf72c5f032a208c33aebb7f76f7bf01b69218161a1232
3ffc5b261ff1c9283c427243b54dbe5f9af2b103702a0af6d8516a4bace91a07
4b89b98e5e7b67eac0fb79dbf4ad697cbd79f9fe51b8313accc8d7bfe6a439d2
aa6206082575919b3b0ea11c5430082a8b6b2251ca4d4aeedfe663ca250fdafb
SHA-1
7307daef9ecb421cddceade009dfc07516f33340
807e70160b1286c6497319f951ee562cffde60ee
c9ead39a2366efd397210b1b31fbf17c36d5b26e
ea21133721033a9fe5da1dfce39f9875f5439ebb
642beb25cbc0ef367f87884e5bf8d77860279dcd
Remediation
Block the threat indicators at their respective controls.
Do not download software and files from unofficial and untrusted sources.
Search for IOCs in your environment.