Severity
Medium
Analysis Summary
New fourth version of the DanaBot banking trojan has surfaced after months of inactivity. This most recent variant comes packed mostly with the same deadly arsenal of tools that have come before. Main features include a ToR component to anonymize communications between the bad-guys and an infected hardware. As previously reported in DanaBot control panel, DanaBot is set up as a 'malware as a service' in which one threat actor controls a global command and control (C&C) panel and infrastructure then sells access to other threat actors known as affiliates,".
DanaBot's multi-stage infection chain starts with a dropper that triggers a cascading evolution of hacks. These include stealing network requests, siphoning off application and service credentials, data exfiltration of sensitive information, ransomware infection, desktop screenshot spying and the dropping of a cryptominer to turn targeted PCs into cryptocurrency worker bees. At least one of the DanaBot distribution methods is identified as misuse of various software warez and cracks websites that supposedly offer software keys and cracks for a free download, including anti-virus programs, VPNs, graphics editors, document editors, and games. However, the files distributed by these sites are a bundle of several different malware, including DanaBot. Earlier Campaign also distributed Danabot with new features.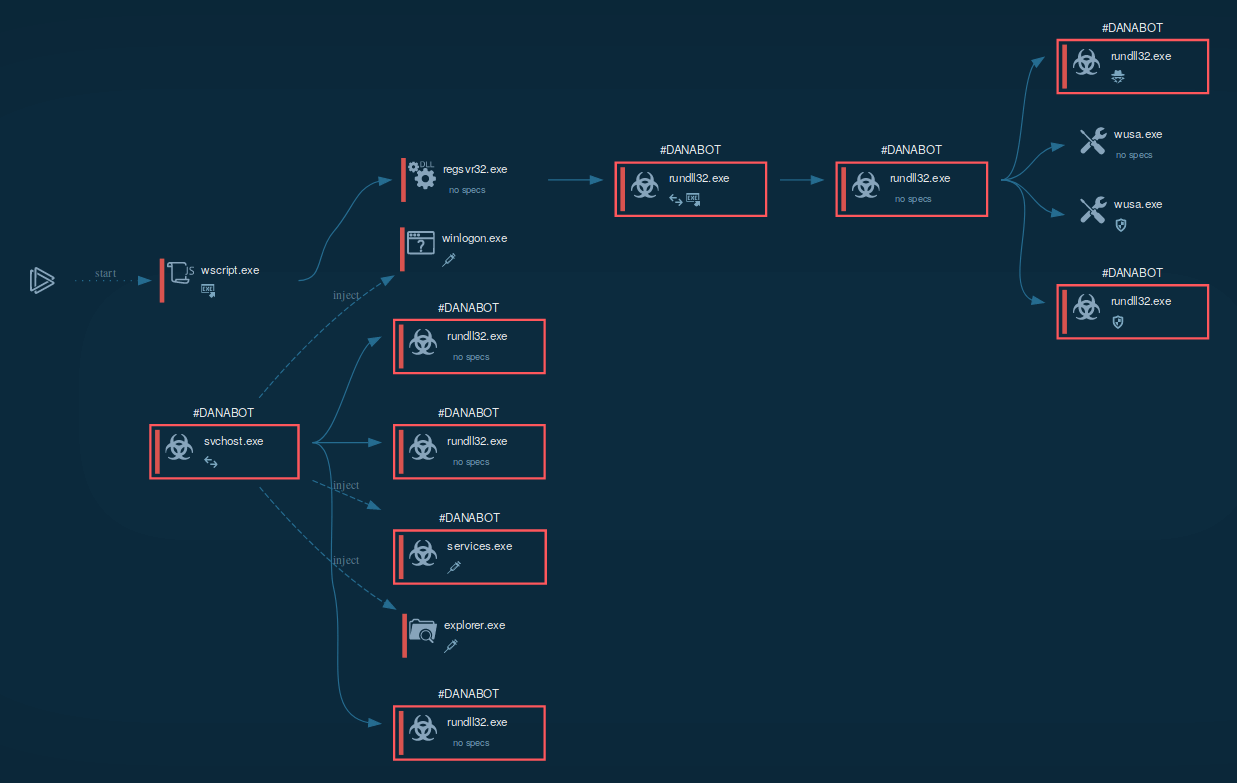 Impact
Data Exfiltration
Information Theft
Indicators of Compromise
MD5
c816517a9f394d367fdd12bfafb814b3
7822715637930a3d172819306ac76fc2
667855dd1aed39886e5fd8109f2fd9e5
a566e990569d33f61fcd5712953e46b7
0f188430addd42481937c39756c45b26
0261d6c09c1f707a5231b9368368827a
bee0fa12d96526269535f2ea0fa07206
c781f07a614c5c4d3a2d4459b3681289
SHA-256
053542bbd9ab3b0436469e6d6ae5ff0b72e55f882a08e23d8ab481e1357d9528
0ec6e0825a2fc0fad53014005501839b31dad92997612244a573b52decc70435
9c5648d95372a7b7fd70bab86725db07dab9e0e66826f9a06a7deb7b134902ef
08dcec9e59f25bb87556ea5acb6c778d88f5bf14d4a130758543f85923e646a0
23d57a913a8c60630d1f26d5f7eba55d8437d7595f562b1dd81b2ebc8d69751c
00386f5a0b2c05405ef8dded9f15282e5a1d91e44d1264f139ecb9ac1204217d
bb0d46e89bf7c71a236836cf722a4f6874869527b13c338cc084dfa0cd3279ea
68ebca16a59d6ddc022472a4c4d68f8f6491c70737fddf1723ef36f11d8eb043
SHA-1
2aad9407b2230a9f1e0c94135908aa78f27dd65b
18d152ecbb3e09d2ba7408adfc63be1d7b1d2495
2a563d2f412bfe6678031817f3cd6e37f59f935a
8ec5c1c91ffddd646515e1cf8ae1be49309f5d4b
b4b74e182129511ef280fc7646d0e0122ccdb01b
e1c2958f6e36478ed1714d2680e3171e9517b40d
cc1586c365157b66e476d4302b425b55d8b1f2ca
c04dac164ed493801b4d9c3c7bd3ed446fc9de88
Remediation
Block the threat indicators at their respective controls.
Search for IOCs in your environment.