Severity
High
Analysis Summary
Conti ransomware family packs multiple unique features, including improving performance and giving its operators the option to only target networked SMB shares. The malware improves performance through the use of "up to 32 simultaneous encryption efforts," and is likely directly controlled by its operators, which means that it can target network-based resources and skip local files, similarly to what the Sodinokibi ransomware can do. The notable effect of this capability is that it can cause targeted damage in an environment in a method that could frustrate incident response activities. A successful attack may have been destroyed that's limited to the shares of a server that has no Internet capability, but where there is no evidence of similar destruction elsewhere in the environment.
Bank Indonesia (BI) is the Central Bank of the Republic of Indonesia. BI has confirmed today that a ransomware attack hit its networks last month. Ransomware payloads were deployed on the systems of the BI employees.
"We were attacked, but so far so good as we took anticipatory measures and most importantly public services at Bank Indonesia were not disrupted at all," the head of BI's communications department, Erwin Haryono, said.
"BI is aware of a ransomware hack last month. We are aware that we have been hit by a cyber attack. This is a crime, it is real, and we are exposed to it," Haryono added according to local media.
Conti leaked some of the data that was stolen and therefore has taken responsibility for the attack. In all, the ransomware group claims to have 13.88 GB worth of documents to leak if Bank Indonesia doesn't pay the ransom.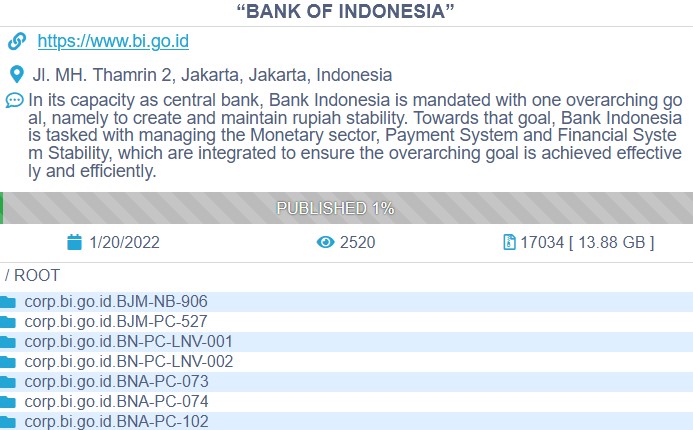 Impact
File Encryption
Data Theft
Financial Loss
Indicators of Compromise
MD5
9a35dda6735102f5aac7876c73f7863a
cdf6a63fd74ea83f310a796a9c21c659
8ed5f474476b8ac49a1ba0ac9222feae
b11ea7564115dbf8de1d73c916d8caa2
SHA-256
7220bd358f7a359fba4e076252af1c06eddf175463b32a03aa1d59b199c684de
bda3868320633ed3af8b26997af76d2a5853b3c8d4e2951efec4510809b1011b
120fa0aa63598735bd316759edc1de341d089f391adf67b356039f1e706655e7
8b26138a0e371f06fb51679c8d89f661c6ace3d35a90e569887a1b14ac5938e7
SHA-1
a3024cae3ab158800dbaa0f1de903ef12270cd83
6637b6960b46f412a15e3a6eadaeda147a27a49b
19e127533f8b6ab97cad19c6e5e66c33d092360a
5c72eba30754f697f4ed1d0f3b344e4cd3dbd937
Remediation
Block all threat indicators at your respective controls.
Search for IOCs in your environment.