Severity
High
Analysis Summary
Confucius APT group, an Indian state-sponsored APT group, first started operations in 2013. The group's main target is Pakistani and other South Asian countries. The group started using mobile malware to infiltrate its victims before it used desktop malware. Android surveillanceware tools like SubBird, ChatSpy, and Hornbill have been used by the group to spy on the victims. Pakistan's military officials, nuclear authorities, and Indian officials located in Kashmir have also been the chief targets of the threat group. Data that can be exfiltrated by the group is: Geolocation, Call logs, Device metadata including phone number, IMEI/Android ID, Model and Manufacturer and Android version, Contacts, and even WhatsApp voice notes.
The malware used by Confucius is able to take screenshots, scrape WhatsApp messages and contacts, take photos with the device camera, record the environment and call audio.
In the latest campaign, this APT group was seen targeting the Government Of Pakistan Ministry Of Interior.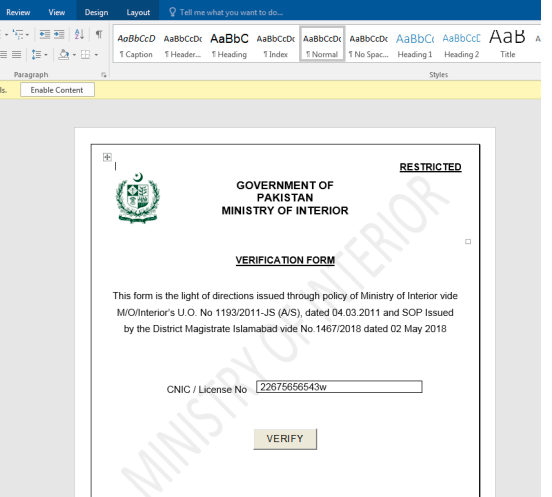 Impact
Information Theft and Espionage
Indicators of Compromise
Domain Name
viterwin[.]club
MD5
a61a50f712b2cf3262c07ec7516c766e
b1fecb0b98a86e2243b2163d9d720dc0
5b817c7dc6bf17ef2fa32136b9c106cd
f82bd6ccf7370b37b306654a44c3189c
SHA-256
e8cc982ad88c60cd2bf0abad663cc90cc89aa98c4bd8e470109b5ad4a8c26195
0e30b6e1b05279aac4c0b3b1d8b6d250fec0999cc72d0506e617fde53bc4f6e9
61cbb180748008de2703a2b0471cf36846a891e57e2037b7036f6b34b44f3018
44826a469c7676b99f0977b969bbd8910ecdc11818946977c6033b2ac27ae187
SHA-1
ceba2c494b2bac17b32682b1a5d4ef3c84cb004c
c2ab7d7db47f2fdc3a9d1c683d9dda07025923d2
b3c523b4e66aae0b1368e0fab0eca4f3687923ef
50b66acc31f4a7bf912434fef694f84d6c398a3d
Remediation
Block all threat indicators at your respective controls
Search for IOCs in your environment.