Severity
High
Analysis Summary
A cybersecurity firm has identified a China-linked cyberespionage group APT41, also known as Winnti, Axiom, Barium, Blackfly, and HOODOO, which has been using two previously unknown Android spyware named WyrmSpy and DragonEgg. APT41 has been active since at least 2007 and has not slowed down despite recent indictments by the U.S. government. The group is now targeting mobile devices, considering them high-value targets for their cyber espionage operations.
The researchers linked WyrmSpy and DragonEgg by identifying overlapping Android signing certificates. Some versions of WyrmSpy were found to use unique signing certificates later used by the author of DragonEgg. Additionally, they discovered a connection between the malware's Command and Control (C2) infrastructure and Chengdu 404, as evidenced by the use of an IP address associated with APT41's hacking infrastructure between May 2014 and August 2020.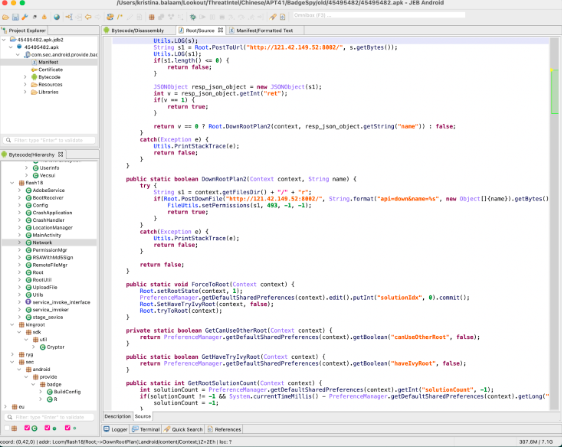 Researchers first detected WyrmSpy in 2017 and DragonEgg in early 2021, with the most recent samples of DragonEgg dating back to April 2023. WyrmSpy initially masquerades as a default Android system app for displaying notifications, but later variants disguise themselves as adult video content, the "Baidu Waimai" food delivery platform, and Adobe Flash. On the other hand, DragonEgg pretends to be third-party Android keyboards and messaging apps like Telegram.
After installation, both spyware requests extensive device permissions and rely on downloaded modules to exfiltrate data from infected devices. WyrmSpy can collect log files, photos, device location, SMS messages (read and write), and audio recordings. It gains escalated privileges on the device using known rooting tools and follows commands from its C2 servers to carry out surveillance activities. DragonEgg also utilizes additional payloads to implement sophisticated surveillance capabilities, collecting device contacts, SMS messages, external device storage files, device location, audio recordings, and camera photos.
WyrmSpy uses popular rooting tools like KingRoot11 and IovyRoot/IvyRoot12, and it can disable SELinux on compatible Android versions. If the packaged rooting tool fails or doesn't exist, and if the device isn't already rooted, the malware queries the C2 infrastructure with the device's model and kernel version to receive a response containing a file name, which the malware uses to download additional rooting binaries from the C2 infrastructure if available. Notably, Google confirmed that the malicious apps were not detected on Google Play based on their current detection capabilities.
"If the packaged rooting tool does not work or does not exist, and if the device is not already rooted, the malware queries the C2 infrastructure with the model and kernel version of the infected device. It then receives a response containing a file name which the malware uses to download additional rooting binaries from C2 infrastructure if one exists for the specified device." they conclude.
Impact
Espionage and Data Theft
Financial Loss
Indicators of Compromise
IP
118.193.39.165
121.201.109.98
103.43.17.99
MD5
015f01cacca56bb4c8b1978a29194491
c77842c3bb14316476d220685441276a
0424b9dca148e291178acae85797b9e3
06b682d3ffd19785745ce7d53f3ff454
1e3b46c0d30c4bad4cce8adec2af1154
427d75d2b1d398b91b5b090c6cc844ec
fffc97a8c116cd72aed5d75b6d806311
SHA-256
38e18d79b83e7c0afbe1ac246a7a5fe6b2783adc085e9aeb2ec610e76f5ccaad
92ce9de120ebd88f0126644697e9840489b2c2497e5c99acfa7dd680d98cf075
c45a82123c985f2fd18e6763b76443ba6c49d12df3d7fe445a19c8fcdc6de846
4fd5f3c3e4bc4c354d0e4de0bebfdb85e1bab5e5f1ea24ce18b947377a7e2423
68494cde4ee344cba80e8651c579418f2ce534018d88745797f030a3115ed19b
9ef830205b7cf0d59d495f722fc61cc3a9f938972e24bae05fa8620b43ed264a
ee90d36b384d92a0c9609eab0a3fe0f2af245c281473b4ff0cdd8caeed34fe97
SHA-1
d02f548d354adff645318de6edc45dff23170241
2438069c43771f0011da2f22b57b8336aaa7562c
5c2fc57609ee28753b78a0f33ba7519fc9fbb6f8
53c745956c3501d1daf232aeea5edfb52168c6b4
cab70e99516a36ab0f0d3851375adf0740f4bd5e
81762cfae0bd5585e8c0c86e4fdbbe47d2dd614a
fbda76a2c2834f89d642a72c24b1988a1f56e4b8
Remediation
Block all threat indicators at your respective controls.
Search for Indicators of compromise (IOCs) in your environment utilizing your respective security controls
Maintain cyber hygiene by updating your anti-virus software and implementing a patch management lifecycle.
Patch and upgrade any platforms and software timely and make it into a standard security policy. Prioritize patching known exploited vulnerabilities and zero-days.
Enable MFA wherever possible to add an extra layer of security to online accounts and prevent unauthorized access.
Download apps only from official app stores like Google Play Store or Apple App Store. Avoid sideloading apps from untrusted sources, as this can increase the risk of malware infections.
Be cautious when granting permissions to apps. Review the permissions requested by apps and avoid giving unnecessary access to sensitive data or functions.
Conduct security audits and vulnerability assessments to identify and address potential weaknesses in the network and infrastructure.
Restrict access to sensitive data and critical systems. Employ the principle of least privilege to ensure that users only have access to the resources necessary for their roles.
Maintain regular backups of critical data and verify their integrity. In case of a ransomware attack or data breach, having backups can help in recovery without paying a ransom.
Develop and practice an incident response plan to handle security incidents effectively. This plan should include procedures for identifying, containing, and eradicating malware.