Severity
High
Analysis Summary
The Russia-linked threat-state actor BlueBravo, also known as APT29, Cloaked Ursa, Midnight Blizzard, and Nobelium, has been detected targeting diplomatic entities in Eastern Europe through a spear-phishing campaign. The group's objective is to infect recipients with a newly identified backdoor called GraphicalProton. This campaign was observed between March and May 2023.
To obfuscate their command-and-control (C2) communications, the threat actors are abusing legitimate internet services (LIS), expanding the range of services misused for this purpose. In January 2023, BlueBravo was observed using a themed lure to deliver another type of malware called GraphicalNeutrino. However, GraphicalProton differs from GraphicalNeutrino in terms of C2 communication, as it now uses Microsoft's OneDrive or Dropbox for this purpose instead of Notion.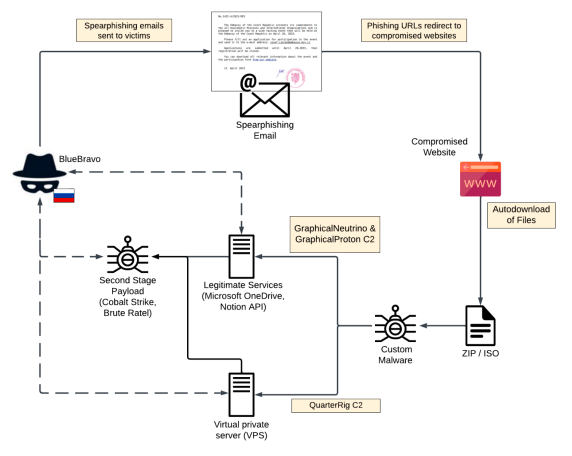 Both GraphicalNeutrino and GraphicalProton serve as loaders, with the latter being staged within ISO or ZIP files delivered via phishing emails. The attackers distribute ISO files containing .LNK files disguised as .PNG images of a BMW car supposedly for sale. When clicked, the .LNK file triggers the GraphicalProton infection chain. The attackers utilize Microsoft OneDrive as their C2 server and periodically poll a folder in the storage service to fetch additional payloads.
The analysis by researchers suggests that BlueBravo prioritizes cyber-espionage efforts against European government sector entities, potentially due to the Russian government's interest in strategic data during and after the war in Ukraine. Given the ongoing conflict in Ukraine, it is expected that BlueBravo will continue to view government and diplomatic institutions as high-value targets in the foreseeable future. These organizations may provide valuable insights into the decision-making processes of governments allied with Ukraine, which makes them attractive targets for BlueBravo and its Russian intelligence consumers.
Impact
Information Theft and Espionage
Exposure of Sensitive Data
Cyber Espionage
Indicators of Compromise
Domain Name
te-as.no
easym6.com
remcolours.com
simplesalsamix.com
sylvio.com.br
reidao.com
mightystake.com
sharpledge.com
fondoftravel.com
MD5
1b371d33e9b5acfa78a478d289b62988
0e4e30fe797e02f3f18892b24a6b3087
71d92d610cc7d43aabe67cc9c95e9673
237e0b3d73022a5bbef796e04943c7c8
57770c738da83088a809887396a3871c
6852a33758758e9f472ff56531eceb4d
138504507a362e6fce66926748c307c9
e306333093eaf198f4d416d25a40784a
4c00d883444c78f19c3a1af191614491
68cc826c2c58cb74abe3e5ef2123102c
9685dae9ed8d2bf13b66593c1d7cd2eb
dd2e5debb0ae8b8bccac5c1fbef6bb5a
5bcf04c0fb0f62fc5f4b83789477a699
SHA-256
9da5339a5a7519b8b639418ea34c9a95f11892732036278b14dbbf4810fec7a3
22b037f0a42579b45530bed196dd2b47fd4d4dffb8daa2738581287932794954
b84d6a12bb1756b69791e725b0e3d7a962888b31a8188de225805717c299c086
aff3d7f9ebfdbe69c65b8441a911b539b344f2708e5cef498f10e13290e90c91
c71ec48a59631bfa3f33383c1f25719e95e5a80936d913ab3bfe2feb172c1c5e
385973e7777081c81cfe236fcc8b3ebf5e4ae04f16030d525535f6cfe38cae7b
becbd20a19bab555b92d471b30b8159dfa709e9bc417e5d42d72c94546d9e61c
79a1402bc77aa2702dc5dca660ca0d1bf08a2923e0a1018da70e7d7c31d9417f
640a08b52623cd8702de066f1f9a6923b18283fc2656137cd9c584da1e07775c
6f37579d445639c7dfebb4927fe7f6ea70d25d1127f9d9b5078f8ccd4da36127
0e22e6a1dc529008d62287cfddaed53c7f4cc698feec144f00c92594dc76d036
02ce47bd766f7489c6326c30351eb9b365f9997de1b2f92924d130fa07e0d82c
c5209127e65b0465c8a707ca127b067aa8756c1138bd0d3636f71bfbe8fd9bda
SHA-1
a68d5ff30a25cf033061a74e8c8a34721bcc65a0
e4846460539e51e3e0f9398b8c215d5bc39e70fe
f2b87d3a692b7597bdcee8151e5960fc5959dc7b
e6e37fb4aaa2c45bb6cbc2ebc89a5fd722176f0a
f38fd42c2646301053618a2cf87fd52c41ff2ed7
6d1a3abcb1d27ea40b046701e02351b1c4841e26
28891e267e320d38b570437ff283abce6cc19d55
fd45d69af00fdff334515523aad22bbd15b4981d
a88cb3524246ff1a0c7e6a2afa1d28989b5cfc7f
cd1558626e38b1d12332de4e12104c7e57466e55
fbcc038644cd9a564902e8ff681063cb1a80538c
28a5dbdf03612d0725ab6756e0f2e9a6cad8e889
dcf27c3002f343ef6cafb732c2f779ea1aaa0ce5
Remediation
Block all threat indicators at your respective controls.
Search for Indicators of compromise (IOCs) in your environment utilizing your respective security controls
Emails from unknown senders should always be treated with caution. Never trust or open links and attachments received from unknown sources/senders.
Maintain cyber hygiene by updating your anti-virus software and implementing a patch management lifecycle.
Conduct regular cybersecurity awareness training for all employees, especially those handling sensitive information. Educate them on recognizing phishing emails and suspicious attachments to prevent initial infection.
Deploy robust email filtering solutions to detect and block phishing attempts and malicious attachments, reducing the chances of the malware reaching the end-users.
Implement network traffic monitoring and intrusion detection systems (IDS) to identify suspicious activity and unusual connections indicative of a potential intrusion.
Limit access to administrative accounts and portals to only relevant personnel and make sure they are not publicly accessible.
Enable MFA for all accounts, especially for remote access and critical systems.
Maintain daily backups of all computer networks and servers.
Deploy continuous monitoring solutions that provide real-time visibility into network activities and behaviors, enabling swift detection and response to potential threats.