Severity
High
Analysis Summary
According to recent reports, the Royal ransomware gang has begun testing a new encryptor called BlackSuit, which shares many similarities with the operation's usual encryptor.
BlackSuit is a new ransomware family that was first discovered in May 2023, and it has been found to be significantly similar to the Royal ransomware family. The similarities between the two ransomware strains have led researchers to speculate that BlackSuit is either a new variant developed by the same authors, a copycat using similar code, or an affiliate of the Royal ransomware gang that has implemented modifications to the original family.
It appears that since late April, there have been rumors that the Royal ransomware operation was planning to rebrand under a new name, possibly due to increased pressure from law enforcement after attacking the City of Dallas, Texas. In May, a new ransomware operation called BlackSuit was discovered, which used its own branded encryptor and Tor negotiation sites. Some researchers speculated that BlackSuit was the new name for the Royal ransomware group, but a rebranding never occurred, and the Royal group is still actively attacking enterprises while using BlackSuit in limited attacks.
According to Yelisey Bohuslavskiy from RedSense, the Royal gang uses both Royal and BlackSuit lockers, with Emotet and IcedID as precursors. They are focused on developing custom precursor loaders and exploring alternatives to CobaltStrike, such as Sliver. While they experiment with new tools like the BlackSuit locker, it's possible that these attempts are considered failed experiments.
The BlackSuit operation seems to be self-contained, possibly indicating that Royal is planning to launch a subgroup targeting specific types of victims or saving it for a future rebranding.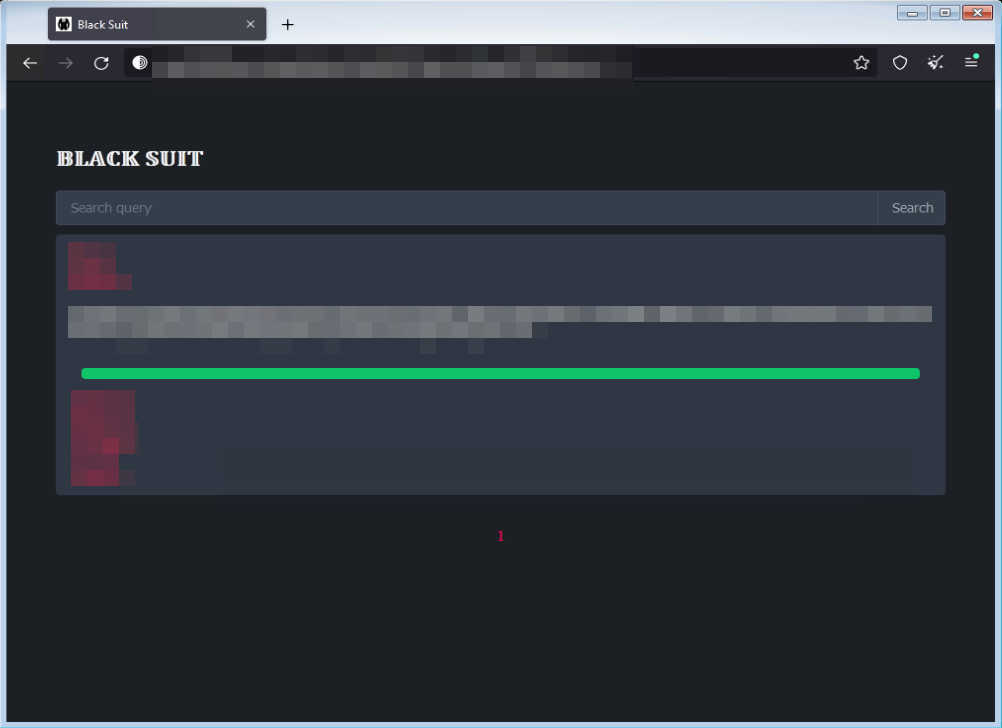 However, a rebranding may no longer be effective, as a report by Trend Micro reveals clear similarities between the BlackSuit and Royal ransomware encryptors, making it difficult to convince others that it is a completely new operation. Although the extent of the BlackSuit encryptor's use is uncertain, it has been observed in a small number of attacks, with ransom amounts currently below $1 million. While only one victim is listed on their data leak site at present, that could change if the BlackSuit encryptor is more widely deployed.
It is still unclear if the BlackSuit encryptor is the beginning of a new Royal gang subgroup or a failed experiment. Nonetheless, network defenders should be aware of the expertise possessed by Royal in breaching networks and deploying their encryptors.
Impact
Indicators of Compromise
MD5
748de52961d2f182d47e88d736f6c835
9656cd12e3a85b869ad90a0528ca026e
4f813698141cb7144786cdc6f629a92b
2902e12f00a185471b619233ee8631f3
SHA-256
90ae0c693f6ffd6dc5bb2d5a5ef078629c3d77f874b2d2ebd9e109d8ca049f2c
1c849adcccad4643303297fb66bfe81c5536be39a87601d67664af1d14e02b9e
4d7f6c6a051ecb1f8410243cd6941b339570165ebcfd3cc7db48d2a924874e99
b57e5f0c857e807a03770feb4d3aa254d2c4c8c8d9e08687796be30e2093286c
SHA-1
30cc7724be4a09d5bcd9254197af05e9fab76455
861793c4e0d4a92844994b640cc6bc3e20944a73
69feda9188dbebc2d2efec5926eb2af23ab78c5d
7e7f666a6839abe1b2cc76176516f54e46a2d453
Remediation
Block all threat indicators at your respective controls.
Search for Indicators of compromise (IOCs) in your environment utilizing your respective security controls
Maintain cyber hygiene by updating your anti-virus software and implementing a patch management lifecycle.
Maintain Offline Backups – In a ransomware attack, the adversary will often delete or encrypt backups if they have access to them. That's why it's important to keep offline (preferably off-site), encrypted backups of data and test them regularly.
Enforce strong password policies and consider implementing multi-factor authentication (MFA) to enhance access security.
Deploy reputable and up-to-date endpoint protection solutions that include anti-malware, intrusion detection/prevention systems, and behavior-based detection mechanisms.
Implement a robust backup strategy that includes regular and automated backups of critical data. Ensure that backups are stored securely offline or in an isolated environment to prevent ransomware from encrypting backup files.