Severity
High
Analysis Summary
Black Basta is a new emerging ransomware that encrypts data stored on clients' hard drives. It has been active since April 2022 and employs a double-extortion attack technique. In July 2022, the Black Basta ransomware group has added a new capability that encrypts VMware ESXi virtual machines (VMs) on Linux servers
A new strain of the Black Basta ransomware that supports encryption of VMWare ESXi servers. They have been reporting on similar encryptors issued by a number of different groups, including LockBit, HelloKitty, BlackMatter, REvil, AvosLocker, RansomEXX, and Hive, among others.
Black Basta's ransomware binary, like other Linux encryptors, will search for the /vmfs/volumes where virtual machines are kept on the compromised ESXi servers (if no such folders are found, the ransomware exits).
To encrypt the data, the ransomware uses the ChaCha20 algorithm. It also uses multithreading to make use of many processors and accelerate the encryption operation. The ransomware appends the .basta extension to encrypted filenames and creates readme.txt ransom notes in each folder.
Ransom Note: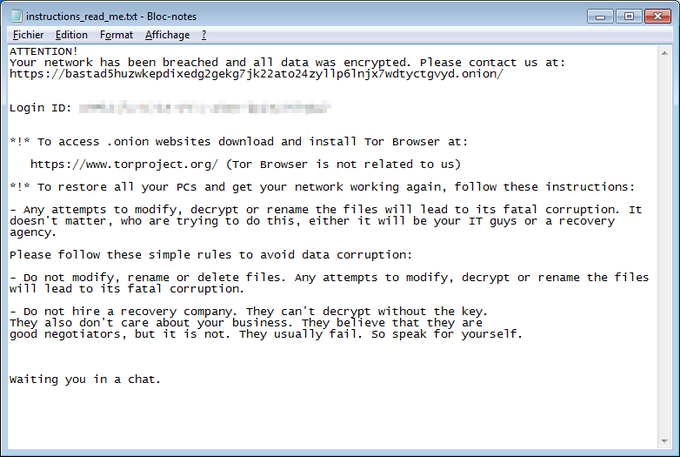 Impact
Indicators of Compromise
MD5
d1fec50e1630401e8096fde9e6f31482
0c0ebd73cacb79b19dfd95dc3a5019ee
1e9d4af109f42baa420598b1cb38d307
SHA-256
d982401b64ae312363fafadcfdedabdd7c13ad89651767c5c6bc0fef03f63fb4
c61a3b75e95ea37acb0d7653126ce080c807caf182c5002d2a2185e87f533dd6
2558d0817586306d0ddf7beadd371785cd0a0b7ed860ac62760dbbc92866008a
SHA-1
6a0efbdd337131d7fb21babf281f892fadb83807
ce62969554656e30765ee7eb27a51dd79367392a
71db2886b1dde3e92bbab3af7be627f253532736
Remediation
Block all threat indicators at your respective controls.
Search for Indicators of compromise (IOCs) in your environment utilizing your respective security controls
Maintain cyber hygiene by updating your anti-virus software and implementing a patch management lifecycle.
Maintain Offline Backups – In a ransomware attack, the adversary will often delete or encrypt backups if they have access to them. That's why it's important to keep offline (preferably off-site), encrypted backups of data and test them regularly.
Never trust or open links and attachments received from unknown sources/senders.
Enable antivirus and anti-malware software and update signature definitions in a timely manner. Using multi-layered protection is necessary to secure vulnerable assets