Severity
High
Analysis Summary
A strain of attacks that appear to target Pakistani nationals. We named the attack "BITTER" based on the network communication header used by the latest variant of remote access tool (RAT) used.
Infection Vector
Spear-phishing emails are used to target prospective BITTER victims. The campaign predominantly used the older, relatively popular Microsoft Office exploit, CVE-2012-0158, in order to download and execute a RAT binary from a website. Below is an example of a spear-phishing email they used earlier this month. The recipient is an individual from a government branch in Pakistan, while the sender purports to be coming from another government branch of Pakistan.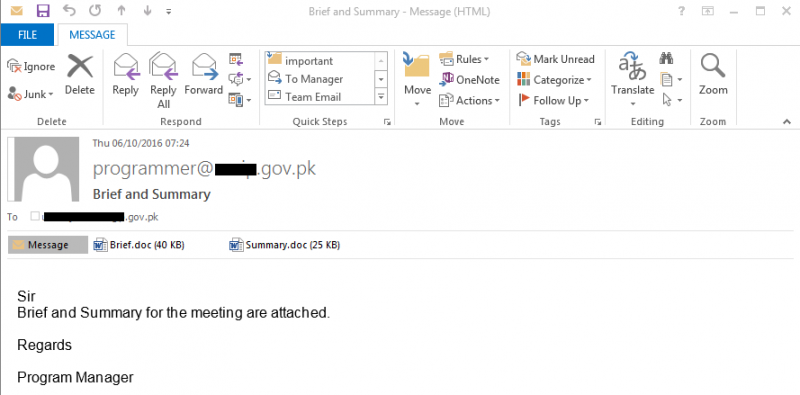 In one instance, they used a RAR SFX dropper that drops both their RAT and a picture of a Pakistani woman as a decoy. A quick Google image search on the dropped picture indicates that the picture was grabbed from Pakistani dating sites.
RAT Component
BITTER used RATs that are compiled using Microsoft Visual C++ 8.0. They use a few iterations of their RAT with the main difference being the RAT's command and control (C2) communication method. Earlier variants communicated to its C2 via an unencrypted HTTP POST. Below is an example of an older variant's phone home request:

Newer ones, on the other hand, use encrypted TCP connection such as the one shown in the introduction above. Both older and newer variants are used simultaneously today in the campaign.
The RAT version (SHA1 d7a770233848f42c5e1d5f4b88472f7cb12d5f3d) that they used in their latest campaign is capable of executing the following backdoor capabilities, essentially allowing the attackers to gain full remote control over a victim's PC.
In addition, the vast majority of their RAT binaries contained the following digital signature with a non-trusted CA Root certificate:
Impact
Privilege access
Exposure of sensitive information
Indicators of Compromise
Filename
Requirement List.doc
Cyber Espionage Prevention.doc
New email guidelines.doc

Malware Hash (MD5/SHA1/SH256)
42cdfe465ed996c546c215a8e994a82fea7dc24c
3ab4ce4b3a44c96d6c454efcece774b33335dda2
1990fa48702c52688ce6da05b714a1b3e634db76
93e98e9c4cf7964ea4e7a559cdd2720afb26f7f7
c3a39dc22991fcf2455b8b6b479eda3009d6d0fd
37e59c1b32684cedb341584387ab75990749bde7
52485ae219d64daad6380abdc5f48678d2fbdb54
137a7dc1c33dc04e4f00714c074f35c520f7bb97
e57c88b302d39f4b1da33c6b781557fed5b8cece
0172526faf5d0c72122febd2fb96e2a01ef0eff8
e7e0ba30878de73597a51637f52e20dc94ae671d
fa8c800224786bab5a436b46acd2c223edda230e
c75b46b50b78e25e09485556acd2e9862dce3890
72fa5250069639b6ac4f3477b85f59a24c603723
f898794563fa2ae31218e0bb8670e08b246979c9
2b873878b4cfbe0aeab32aff8890b2e6ceed1804
d7a770233848f42c5e1d5f4b88472f7cb12d5f3d
ddf5bb366c810e4d524833dcd219599380c86e7a
23b28275887c7757fa1d024df3bd7484753bba37
6caae6853d88fc35cc150e1793fef5420ff311c6
1a2ec73fa90d800056516a8bdb0cc4da76f82ade
ff73d3c649703f11d095bb92c956fe52c1bf5589
c0fcf4fcfd024467aed379b07166f2f7c86c3200
0116b053d8ed6d864f83351f306876c47ad1e227
4be6e7e7fb651c51181949cc1a2d20f61708371a
998d401edba7a9509546511981f8cd4bff5bc098
21ef1f7df01a568014a92c1f8b41c33d7b62cb40
c77b8de689caee312a29d30094be72b18eca778d
7d47ae3114f08ecf7fb473b7f5571d70cf2556da
645a6e53116f1fd7ece91549172480c0c78df0f
Remediation
Block all threat indicators at your respective controls.
Always be suspicious about emails sent by unknown senders.
Never click on the link/attachments sent by unknown senders.