Severity
Medium
Analysis Summary
COVID-19 based threats identified a phishing attempt by cybercriminals using a HSBC Bank-themed email to trick victims. The attachment is not a payment advice but a trojan.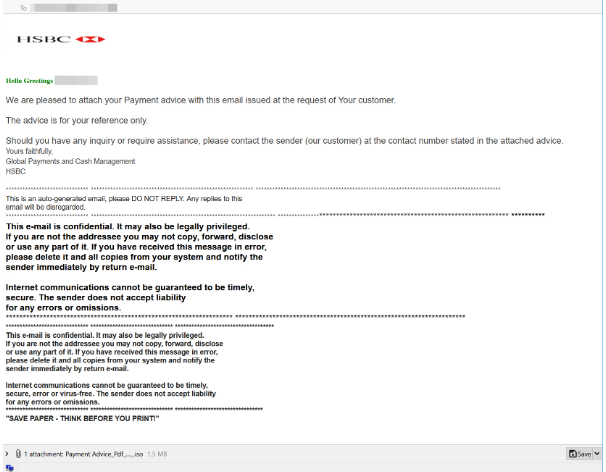 The attachment is an ISO image containing an executable detected by many AV engines as a Trojan. These kind of phishing emails luring users to keep themselves updated on the status of Covid-19 or finding invoices of their payments are continuously being used to rob users of their credentials and their sensitive data and financial loss as well.
Impact
Credential theft
Exposure of sensitive data
Financial loss
Indicators of Compromise
MD5

5477606574c1ecdc50578aa2ea9df2b4
27f6606bc1821a60ee0fdf067616559d
SHA-256

8db4f32cb21d636a59afa76b553e18802098f117df1940e7f78402218bcb960d
fbb838e50d66456115e0d8ac30bfd63eeba487de13cd25fbf8fceef7f2dd1ba9
SHA1

e080ebea296dfbf07ca794d32fa84159f0ea1b90
1fcb12ffdf2b4bd0b6e9304dd148046905932c0f
Remediation
Block all threat indicators at your respective controls.
Always be suspicious about emails sent by unknown senders.
Never click on the links/attachments sent by unknown senders.