Severity
High
Analysis Summary
Gamaredon is a Russia-backed advanced persistent threat (APT) that has been operating since at least 2013. The main goal of this APT is to use the malicious document to gain control of the target machine. The exploit document uses the template injection technique to infect the victim's computer with further malware. When the document is opened, it connects to the hacker's server and downloads the payload file. Gamaredon's tools are simple and designed to collect sensitive information from hacked systems and propagate it further. Its information-gathering efforts are nearly comparable to those of a second-tier APT, whose primary purpose is to collect and disseminate information with their units. The Gamaredon APT group's current attack leverages a decree document from the Russian Federation government as bait. This APT group continues to target Ukraine, in its latest campaign, threat actors used sfx file disguised as a word icon, clicked to launch batch file to release legal digital signature file VNC remote control. This group has shown no signs of being interested in adopting crimeware tactics to monetize their operation; instead, their primary focus has been on espionage.
Gamaredon APT threat actor has recently started using a new custom information-stealing malware to target employees of the Ukrainian government, defense, and law enforcement institutions.
The group uses malicious LNK files delivered in RAR packages to target users in Ukraine. Threat actors use phishing documents with lures connected to the Russian invasion of Ukraine in order to spread further payloads and exfiltrate data. They utilized VBScript, PowerShell, and LNK files to get initial access to the target before deploying malicious payloads after infection.
Gamaredon APT attackers most likely entered targeted networks by phishing emails that contained malicious Microsoft Office documents. This is in line with the spear-phishing methods used often by this APT. The APT gang uses malicious VBScript macros in weaponized Microsoft Office documents with remote templates. The next-stage malware is downloaded and activated by the macros after they open and download LNK files from RAR packages.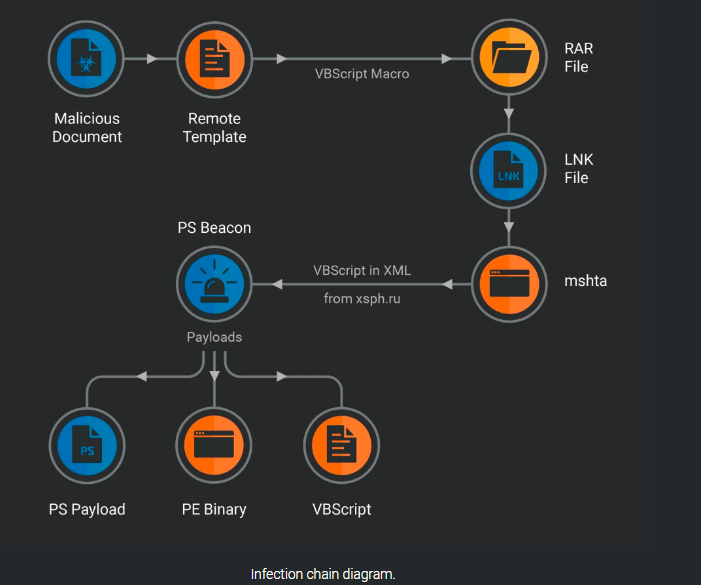 According to researchers,
The infostealer is a dual-purpose malware that includes capabilities for exfiltrating specific file types and deploying additional binary and script-based payloads on an infected endpoint.

One of the executables that the attackers used to spread their malware via the PowerShell script had an information stealer that exfiltrated files with the following extensions from the infected endpoint: doc, .docx, .xls, .rtf, .odt, .txt, .jpg, .jpeg, .pdf, .ps1, .rar, .zip, .7z and .mdb.
According to experts, this infostealer was not a part of earlier activities linked to Gamaredon. It is a speculative claim that it could be a component of Gamaredon's "Giddome" backdoor family, but they do not yet have any supportive evidence.
Once started, the malware scans all attached storage devices looking for files with the aforementioned extensions. For each one, the malware makes a POST request with metadata about the exfiltrated file and its content." concludes the report
Since its debut in 2013, Gamaredon has continued to be a prolific group that doesn't seem to be deterred by the raising attention of its actions. This gang has also targeted educational institutions in U.S, European telecom companies, and large hosting companies in Africa.
Impact
Template Injection
Exposure of Sensitive Data
Indicators of Compromise
Domain Name
kuckuduk[.]ru
pasamart[.]ru
celticso[.]ru
IP
MD5
6cb12a8f64f6186f7f92ab69ad1ad6f5
890104bff9ce28d79eac2b86745609d7
d3a4c5191834fb47fb49ab6c0b59d71b
b5eeb375bb97ca69f2b4ffe6e026f766
SHA-256
4aa2c783ae3d2d58f12d5e89282069533a80a7ba6f7fe6c548c6230a9601e650
581ed090237b314a9f5cd65076cd876c229e1d51328a24effd9c8d812eaebe6a
34bf1a232870df28809597d49a70d9b549d776e1e4beb3308ff6d169a59ecd02
78c6b489ac6cebf846aab3687bbe64801fdf924f36f312802c6bb815ed6400ba
SHA-1
31fd5776155c6332f23e5114abf52bab85ca4f11
defabb7ed2459ed9a0e3c22fdbbd2b34287e45f8
e51a25df05886b8d52703c890911d886b5d1658b
baad6524d0f5723714fc013625b7cc2f13da1fd3
URL
http[:]//a0698649[.]xsph[.]ru/barley/barley[.]xml
http[:]//a0700343[.]xsph[.]ru/new/preach[.]xml
http[:]//a0700462[.]xsph[.]ru/grow/guests[.]xml
http[:]//a0700462[.]xsph[.]ru/seek/lost[.]xml
http[:]//a0701919[.]xsph[.]ru/head/selling[.]xml
Remediation
Block all threat indicators at your respective controls.
Search for IOCs in your environment.