Severity
High
Analysis Summary
Gamaredon is a Russia-backed advanced persistent threat (APT) that has been operating since at least 2013. The group is believed to be operating out of Ukraine, and is thought to be focused on targeting Ukrainian government and military organizations, as well as individuals and organizations in the energy sector. The group has been known to use a variety of tactics to infiltrate its targets, including phishing, malware, and social engineering. The group has been linked to several high-profile cyber attacks, including the 2016 hack of the Ukrainian power grid that caused a blackout in the Ivano-Frankivsk region. Some experts believe that the Gamaredon APT group is closely tied to the Russian government and military intelligence services. The group is known for using a variety of tools to achieve its objectives, including malware, spear-phishing, and social engineering tactics.
In the recent campaign, Gamaredon was found targeting the Directorate General For Rendering Services To Diplomatic Missions of Ukraine.
The evidence of the original email received is attached below: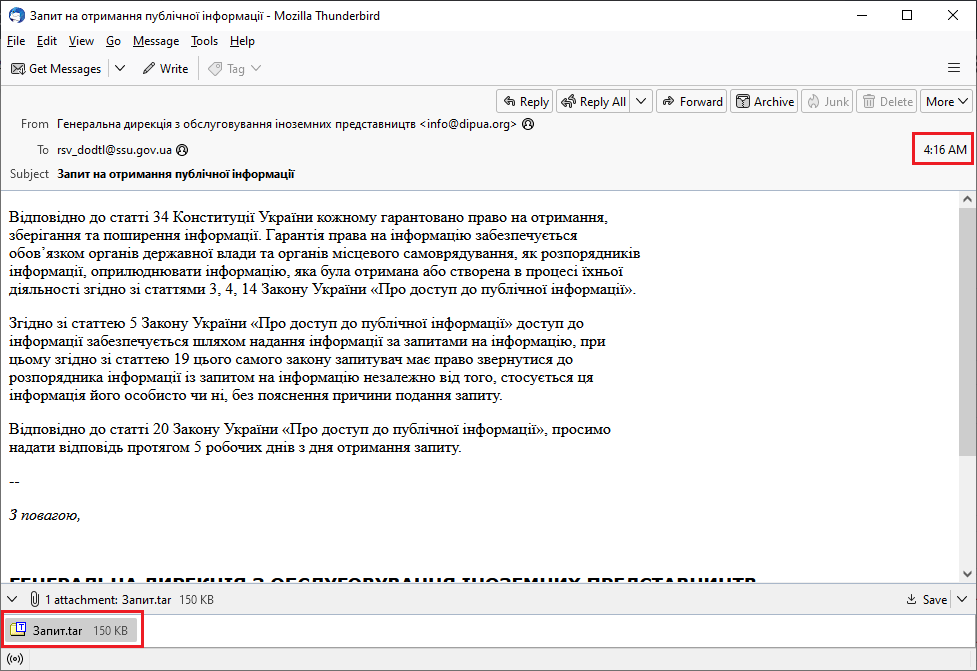 Impact
Template Injection
Exposure of Sensitive Data
Indicators of Compromise
URL
http://194.180.174.203/23.01/mo/baseball.DjVu
MD5
1994fa4183b160cfb8931100f218b331
801b0800b59e45135865c2c96257399e
ebf7728724651e00053e83e4cadf4885
SHA-256
afb612d08112c036628a29ed8d4bd4550ca7cfed2582e2f432f2283a9b507f15
d124919de870b5974639ba24dd80709ed890119bdec4ba6a6179464fca4ef952
600ef7861ad03b434d98312a4133dc33fa1944f43c2e558044dfcdb342803147
SHA-1
18061b6bba37f658c57462a575b5e8000f1d005f
2c05a142e8862abe8a2296a6da39b33fc18f24f8
5862e9a784601f0854f5fc072eb17120954e4185
Remediation
Block all threat indicators at your respective controls.
Search for Indicators of compromise (IOCs) in your environment utilizing your respective security controls
Do not download documents attached in emails from unknown sources and strictly refrain from enabling macros when the source isn't reliable.
Enable antivirus and anti-malware software and update signature definitions in a timely manner. Using multi-layered protection is necessary to secure vulnerable assets
Along with network and system hardening, code hardening should be implemented within the organization so that their websites and software are secure. Use testing tools to detect any vulnerabilities in the deployed codes.