Severity
High
Analysis Summary
APT C-23 also known as AridViper and Desert Falcon is active in the region targeting different sectors with their malicious documents. The group's discovery came around March 2017 and their main target emerged as the Middle East. The group has previously faked an android app to deploy Android/SpyC23 mainly for spying, including reading notifications from messaging apps, call recording and screen recording, and with new stealth features, such as dismissing notifications from built-in Android security apps.
A new sample also seems to be used by APT-C-23. Once it gets executed, a document relating to What does profit from the internet means? is shown to confuse the victim and meanwhile RAT is executed to perform remote control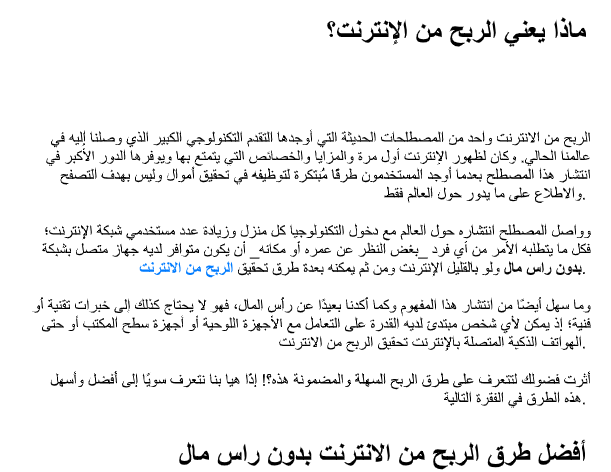 This is relevant to the ongoing spying campaign already active in the middle east via Android Mobile apps which confers resistance to takedowns and manual removal as well. The spyware are in the form of apps that includes App Updates, System Apps Updates, or Android Update Intelligence, which are being sent to the users in the form of text messages and after installations in asks for specific permissions which includes access media apps and other files app in your phone.
Impact
Unauthorized access of victim's machine
Information theft and espionage
Exposure of sensitive data
Indicators of Compromise
Filename
Profit from the Internet[.]docx
MD5
79f706153bad3fd0f623932c522bfab3
186a18e2082e42f92d8f4dc7f219d88f
SHA-256
e6108b5063488f843edae658d362ec7ca2b0ee31f0b65275ff9d19d3ed44888f
3ce7329244986d8484cdd5168aa8b7165147899b298124d749680dd04eca58ca
SHA-1
48a18fb4cb71ca968d8b6ec5d164bb36c831a2e3
0909e7f0ea3408f47bb7cc257877a790754da894
Remediation
Block all threat indicators at your respective controls.
Search for IOCs in your environment.
Always be suspicious about emails sent by unknown senders.
Never click on links/attachments sent by unknown senders.