Severity
Medium
Analysis Summary
APT C-23 also known as AridViper and Desert Falcon is active in middle east region targeting different sectors with their malicious documents. The group's discovery came around March 2017 and their main target emerged as the Middle East. The group has previously faked an android app to deploy Android/SpyC23 mainly for spying, including reading notifications from messaging apps, call recording and screen recording, and with new stealth features, such as dismissing notifications from built-in Android security apps. The ongoing campaign is targeting Middle Eastern Country Sudan with the disguised document impersonating the embassy in Sudan's capital Khartoum and asking for a diplomatic permission to land two military aircrafts (C-130 + C-17) and a permit which should be valid for 72 hours. The timing of these documents are really critical as there's ongoing activity in the Middle Eastern Region regarding the policy making and ties with the other countries.
The decoy documents looks like an attempt to sabotage the process of diplomatic talks going on between Middle eastern countries.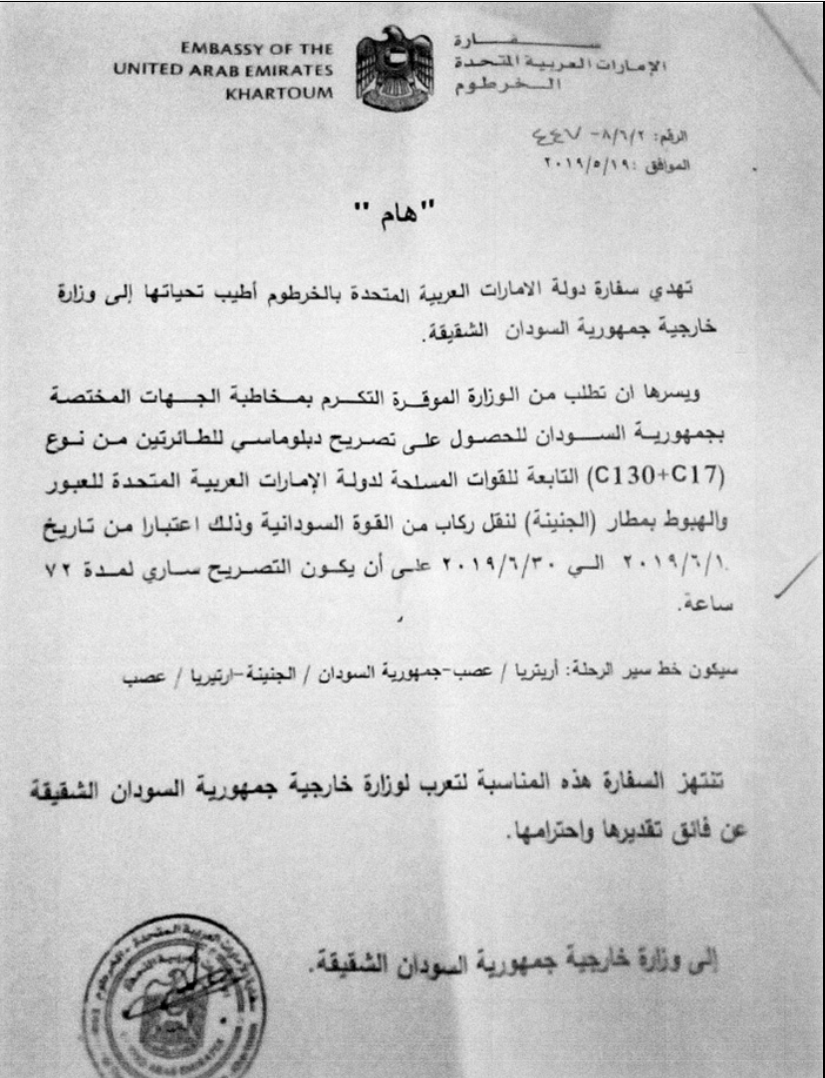 This is relevant to the ongoing spying campaign already active in the middle east via Android Mobile apps which confers resistance to takedowns and manual removal as well. The spyware are in the form of apps that includes App Updates, System Apps Updates, or Android Update Intelligence, which are being sent to the users in the form of text messages and after installations in asks for specific permissions which includes access media apps and other files app in your phone.
Impact
Information theft and espionage
Data exfiltration
Indicators of Compromise
Filename
rar[.]ملف التدريب والتجنيس الجديد المتعلق بالمنتسبين الجدد
MD5
ffc97a79f87dbc48b2230566b7af189f
ed11daeb1f49f9dc73c3ff72c92416b4
bb791edaf5cba30d59f70c1e2e8c6672
fe4a7e55e17aba385a477bea2c6ef837
73062a456903a4d12ba64423e0071dd0
117f9b3baa5349afb60377421d53cfef
29ad37ab4e5e78f34ae8232f93d5bfa2
2a37ab6e3ba450fdc2b27328f52f0226
SHA-256
e00179c7bc76f90864f32275de183f76730cd4a99173c0b6fd6504afa02c8d55
db511ead013e21f51303dd4f6a856418f88d72a7f95c0b2ace0c3ba80866bdf6
c054f6597665fccd18751a88d15488657ff19a286dbd4aac7ecb773b0df60c4d
57bc6b95ecea7e0ca34174f1190de1e9664408311c973866b853d24f41b0e760
57afc0eac8b23d955b75585d5ca7b086a7e17df94b9cb276847ec1c5fe6b6c1a
56becf7125a1596e30f80befb986ae96e18da5be40cc3f78ac0c35ae7a4e17ae
33f79a64fee300f60541a96e2b0c4bcec3aac6f717dff52baa9da7ed803ed6f3
c8103ef05c45313100802128e8856713e08bda283af796002e139d3ae78bee15
SHA-1
e5abf9f727c4b557f7450cfaccc907f35074fd2d
5df9d696f1bd2ee560a2c97ca07a6bc22a9a8518
fa3cfb2858fdab292d3059b143bd0620c97040e8
cdb5b7aed5580644eb845238774d7d6319b4c874
cc7611e98594b2d14236a265268b251170e9402c
865d5aa59aaca4c886cd8747d3d6077a2955898a
8dd6c87a01007e41ef82e4cbb402334d7ae08650
2256b0f1b93889e65e187b965cdaa42416bcbd78
Remediation
Block all threat indicators at your respective controls.
Search for IOCs in your environment.
Always be suspicious about emails sent by unknown senders