Severity
High
Analysis Summary
BlackCat – aka AlphaVM & AlphaV – is a Ransomware family that is deployed as a part of a Ransomware as a Service (RaaS). It is written in the Rust programming language and can run on Windows, Linux-based operating systems (Debian, Ubuntu, ReadyNAS, Synology), and VMWare ESXi.
This ransomware first appeared in November 2021. The majority of the group's victims have been in the United States, although BlackCat and its associates have also targeted organizations in Europe, the Philippines, and other regions. Construction and engineering, retail, transportation, commercial services, insurance, machinery, professional services, telecommunication, auto components, and medicines are among the targeted sectors of BlackCat ransomware. This ransomware can be set to encrypt files using either the AES or ChaCha20 algorithms. It can destroy volume shadow copies, terminate programs and services, and stop virtual machines on ESXi servers to maximize the quantity of ransomed data.
As with other ransomware families, BlackCat encrypts the victim's files and demands payment in exchange for the decryption key. It is important for individuals and organizations to take proactive steps to protect themselves against ransomware, such as regularly backing up important files, implementing strong passwords and multi-factor authentication, and staying up-to-date with software patches and security updates.
Note: This report also includes Indicators Of Compromise (IOCs) provided by Regulatory Authority.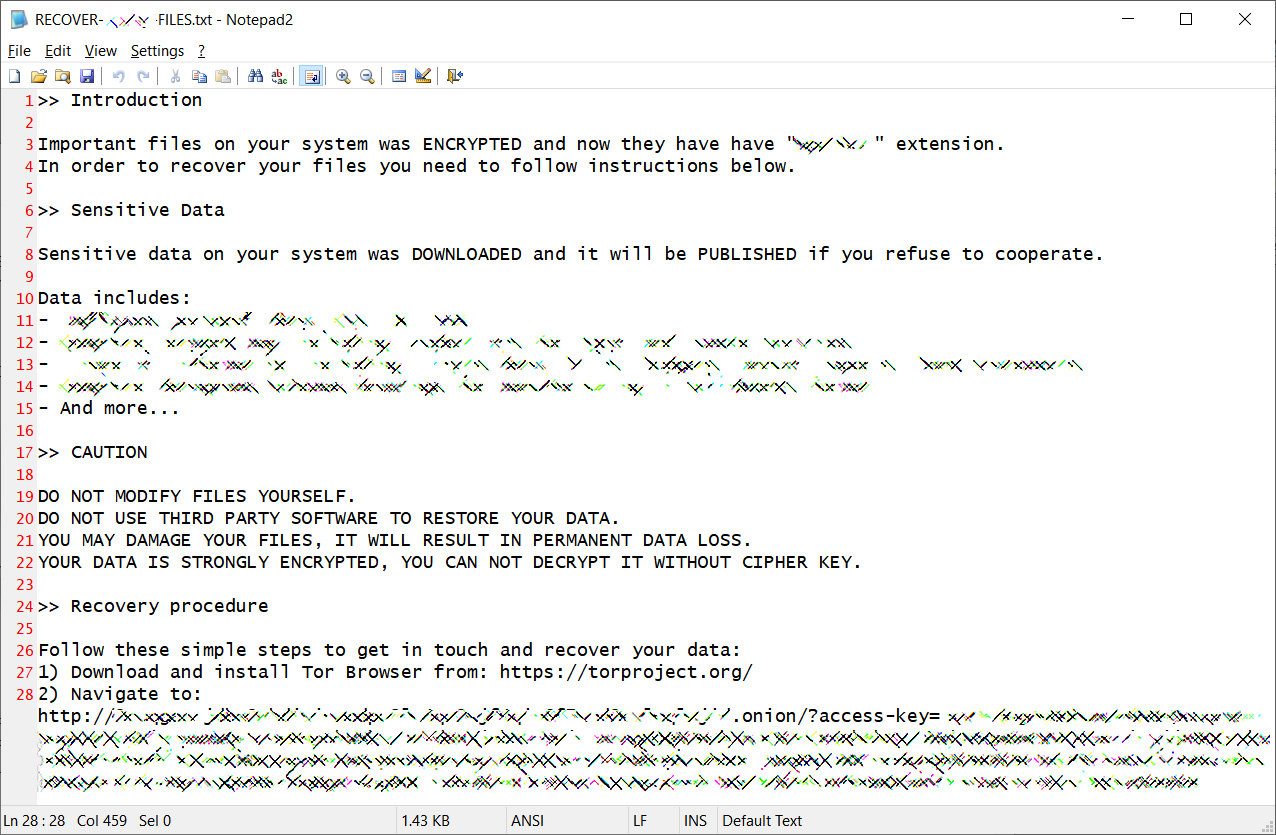 Impact
File Encryption
Reputational Damage
Operational Disruption
Indicators of Compromise
IP
89.44.9.243
142.234.157.246
45.134.20.66
185.220.102.253
37.120.238.58
152.89.247.207
198.144.121.93
89.163.252.230
45.153.160.140
23.106.223.97
139.60.161.161
146.0.77.15
94.232.41.155
MD5
861738dd15eb7fb50568f0e39a69e107
20855475d20d252dda21287264a6d860
91625f7f5d590534949ebe08cc728380
a3cb3b02a683275f7e0a0f8a9a5c9e07
173c4085c23080d9fb19280cc507d28d
817f4bf0b4d0fc327fdfc21efacddaee
9f60dd752e7692a2f5c758de4eab3e6f
09bc47d7bc5e40d40d9729cec5e39d73
f5ef5142f044b94ac5010fd883c09aa7
84e3b5fe3863d25bb72e25b10760e861
9f2309285e8a8471fce7330fcade8619
6c6c46bdac6713c94debbd454d34efd9
e7ee8ea6fb7530d1d904cdb2d9745899
815bb1b0c5f0f35f064c55a1b640fca5
6c2874169fdfb30846fe7ffe34635bdb
SHA-256
7d8671c91a02bfbff8b89a76501b9be017a66a8bba624ed4fe2c7f81b9380ac9
1b90e6f959db883fb4a036dac06242be724a7637708058e2c439e2250222d6d1
3c300726a6cdd8a39230f0775ea726c2d42838ac7ff53bfdd7c58d28df4182d5
31eb1de7e840a342fd468e558e5ab627bcb4c542a8fe01aec4d5ba01d539a0fc
731adcf2d7fb61a8335e23dbee2436249e5d5753977ec465754c6b699e9bf161
f837f1cd60e9941aa60f7be50a8f2aaaac380f560db8ee001408f35c1b7a97cb
80dd44226f60ba5403745ba9d18490eb8ca12dbc9be0a317dd2b692ec041da28
SHA-1
e96950f2b7a9c1cdd542ab5bce025303a0b032f9
04589618b18ed1e073768bd5669127aaf916c4f1
bf1b0ab5a2c49bde5b5dbe828df3e69af5d724c2
d241df7b9d2ec0b8194751cd5ce153e27cc40fa4
a186c08d3d10885ebb129b1a0d8ea0da056fc362
8917af3878fa49fe4ec930230b881ff0ae8d19c9
fce13da5592e9e120777d82d27e06ed2b44918cf
1b2a30776df64fbd7299bd588e21573891dcecbe
Remediation
Block all threat indicators at your respective controls. Search for Indicators of compromise (IOCs) in your environment utilizing your respective security controls
Implement SOC-level monitoring for the mentioned IP addresses/domains.
Conduct a thorough cyber investigation if any system/device is found communicating with the aforementioned IPs/URLs.
Ensure that the connected systems follow established banking security practices or information security policies. This includes implementing strong access controls, regular patch management, encryption mechanisms, and secure configurations to protect sensitive data.
Endpoint Detection and Response (EDR) and Security Information and Event Management (SIEM) systems should be in place to centralize log management, event correlation, and analysis. Verify that SIEM solutions are integrated with connected systems, collecting relevant security logs, and generating alerts for suspicious activities or potential security incidents.
If VPN connections are utilized to establish end-to-end connectivity, ensure that the VPN infrastructure is properly configured, using strong encryption protocols, and enforcing secure authentication mechanisms. Regularly review and update VPN configurations, monitor VPN logs for any suspicious activities, and promptly address any identified vulnerabilities.
Ensure that robust data backup mechanisms are in place, regularly tested, and securely stored. Implement a thorough data recovery strategy to minimize potential data loss and expedite the restoration process.
Conduct a comprehensive review of existing cybersecurity measures, including network security, access controls, and intrusion detection systems. Enhance these defenses to prevent future cyber attacks and fortify the organization's overall security posture.
Develop and implement an effective incident communication plan to keep stakeholders, including customers, employees, and relevant authorities, informed about the progress of recovery efforts, expected timelines, and any necessary precautions to be taken.