Severity
Medium
Analysis Summary
A new AgentTesla campaign is seen targeting victims with malspam. AgentTesla is known for stealing data from different applications on victim machines, such as browsers, FTP clients, and file downloaders. Agent Tesla collects personal information from the victim's machine, steals data from the victim's clipboard, can log keystrokes, capture screenshots, and access the victim's webcam. It can kill running analysis processes and AVsoftware. The spyware also performs basic actions to check whether it is running on a virtual machine or in debug mode, in an attempt to hide its capabilities and actions from researchers. All the data it obtains is sent in encrypted form via SMTP protocol.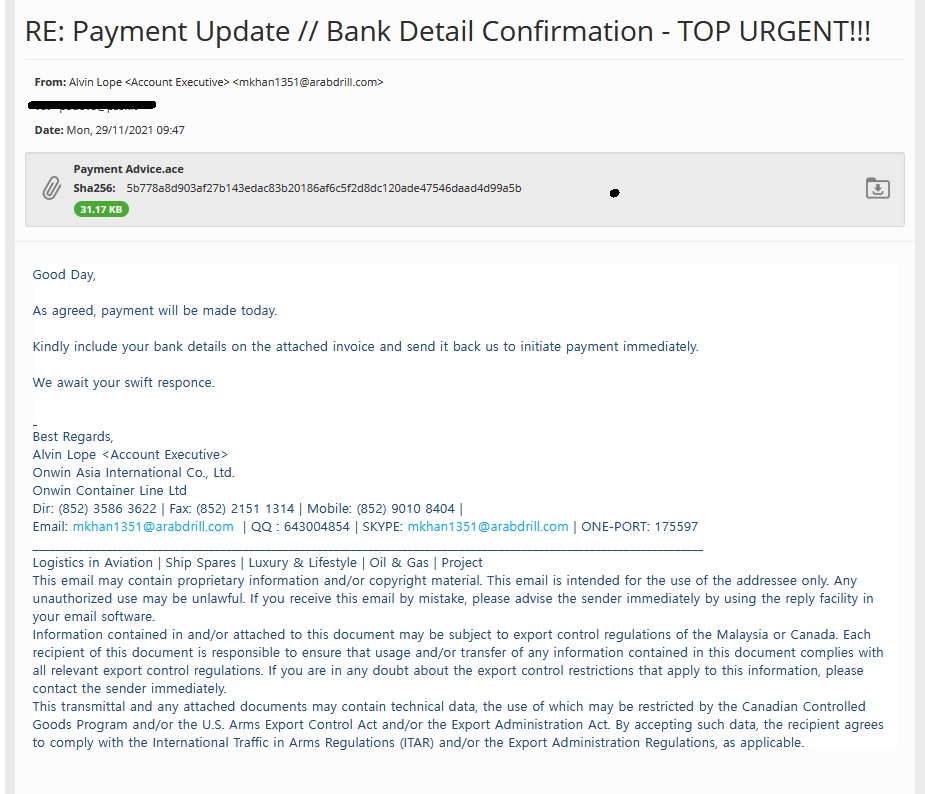 Impact
Information Theft
Exposure of Sensitive Data
Indicators of Compromise
Email Subject
RE[:] Payment Update // Bank Detail Confirmation – TOP URGENT!!!
Filename
MD5
879788dfdbe88f588c0fa05a8b9464c1
3849c55bcfd1f8fe8ee318def3a9c8d0
SHA-256
803a59e264c89c85a62c2d20efb815efdaf3906ed151ec590b9d114f0a375166
5b778a8d903af27b143edac83b20186af6c5f2d8dc120ade47546daad4d99a5b
SHA-1
1d12cd8f2ef519b5737e38bfc3437d897bcaa819
72cec43a9cc014ee2e0f096c32e9b002bebc9177
Remediation
Block the threat indicators at their respective controls.
Search for IOCs in your environment.
Do not download such files from the internet without confirming their legitimacy.