Severity
High
Analysis Summary
Some surveillance tools are being used by the advanced persistent threat group (APT) Confucius, which first appeared in 2013 as a state-sponsored, pro-India actor primarily pursuing Pakistani and other South Asian targets. Targets of these tools include personnel linked to Pakistan's military, nuclear authorities, and Indian election officials in Kashmir. Hornbill and SunBird have sophisticated capabilities to exfiltrate SMS, encrypted messaging app content, and geolocation, among other types of sensitive information.
SunBird has been disguised as applications that include:
Security services, such as the fictional "Google Security Framework"
Apps tied to specific locations ("Kashmir News") or activities ("Falconry Connect" and "Mania Soccer")
Islam-related applications ("Quran Majeed").
The majority of applications appear to target Muslim individuals.
The operators behind Hornbill are extremely interested in a user's WhatsApp communications. In addition to exfiltrating message content and sender information of messages, Hornbill records WhatsApp calls by detecting an active call by abusing Android's accessibility services. The exploitation of Android's accessibility services in this manner is a trend in Android surveillanceware. This enables the threat actor to avoid the need for privilege escalation on a device.
Some notable targets included an individual who applied for a position at the Pakistan Atomic Energy Commission, individuals with numerous contacts in the Pakistan Air Force (PAF), as well as officers responsible for electoral rolls (Booth Level Officers) located in the Pulwama district of Kashmir.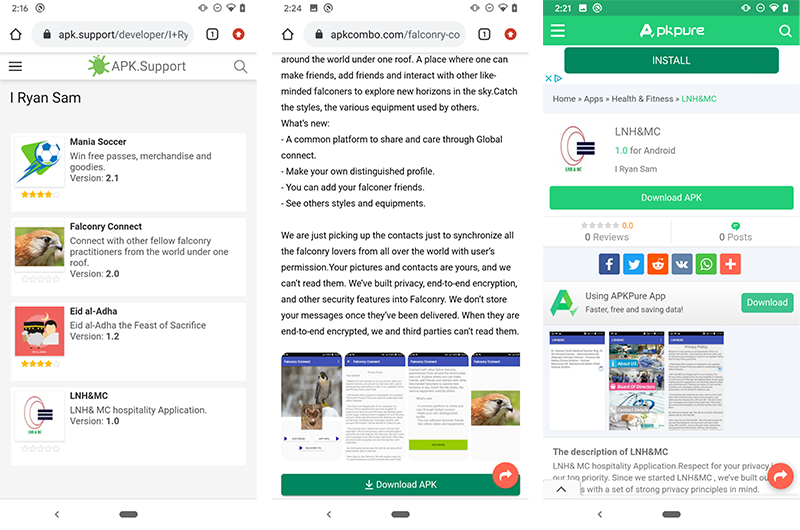 Hornbill application icons impersonate various chat and system applications.
Impact
Information Theft and Espionage
Indicators of Compromise
Domain Name
Filename
IP
69[.]175[.]35[.]98
184[.]154[.]203[.]90
MD5
2224a0d1a1b2e5edcf45c1273c214bc7
SHA-256
a7c9472841c7d20eba604eaca23557fb49642e15e7ce61886d9a34f029a69134
SHA-1
9dc7cf75efd92e2cb8b1acae809e8ea0bfa0c57b
Remediation
Block all threat indicators at your respective controls.
Search for IOCs in your environment.