Severity
High
Analysis Summary
The APT group has been active since 2017 and exploits targets in Africa, Asia, and the Middle East. The group exploits vulnerable internet-exposed devices such as management interfaces for networking equipment and web servers. The next step is to use open-source tools for scanning the environment and lateral movement.
Interactive access is achieved in two ways:
In fewer instances, when more direct and interactive access is required, certain open-source remote access tools are deployed.
Via a custom backdoor called Turian that is derived from the Quarian backdoor.
Both Windows and Linux operating systems have been targeted with this APT.
CloudComputing is another group that is linked to this APT group. BackdoorDiplomacy uses a network encryption method similar to a backdoor called "Backdoor.Whitebird.1." by Dr.Web. This backdoor is used to target institutions in Kyrgyzstan and Kazakhstan (both neighbors of a BackdoorDiplomacy victim in Uzbekistan).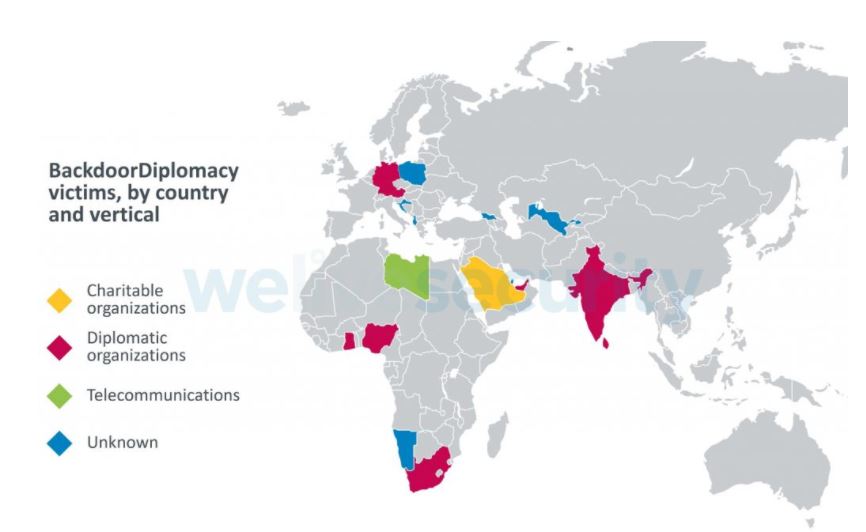 Impact
Data Exfiltration
Theft of Sensitive Information
Indicators of Compromise
IP
45[.]77[.]215[.]53
152[.]32[.]180[.]34
23[.]106[.]140[.]207
23[.]228[.]203[.]130
MD5
e34333634b7208b000027be99612142d
c93a8da9662e7a33a42f49fe5aca51fe
cc2736b1572c211d3fae685156a41332
SHA-256
ea2a01cae57c00df01bff6bb8a72585fdc0abb7a26a869dc1a0131bdff50b400
063065bca918d8d3a1dedcb6a42757c4dc1a05291fefc8f88068b3e03162e129
22c73bd49d95d78ec71e96d235ebc19bdf39a5c1901855f565a958ef19c2964a
SHA1
3C0DB3A5194E1568E8E2164149F30763B7F3043D
32EF3F67E06C43C18E34FB56E6E62A6534D1D694
CDD583BB6333644472733617B6DCEE2681238A11
Remediation
Block all threat indicators at your respective controls.
Search for IOCs in your environment.